HEALTHCARE
---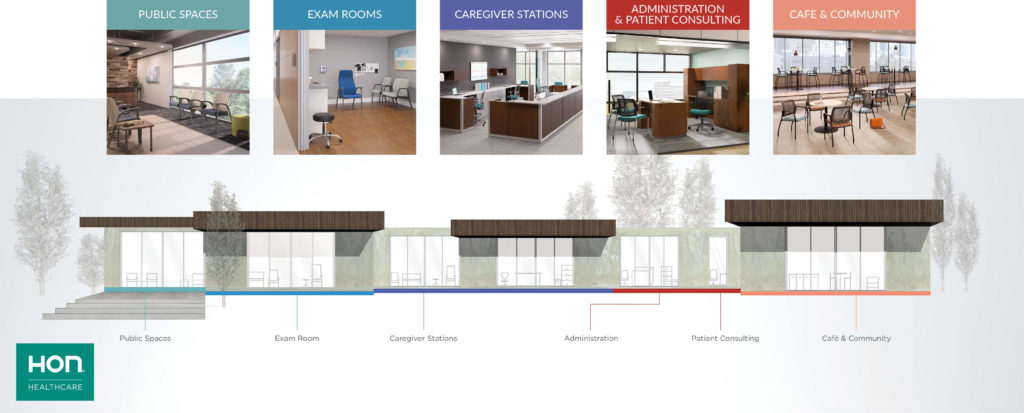 Fully Integrated Healthcare Solutions To Optimize Your Investment
Public Spaces
When designed around people's needs, these versatile settings help to create a better experience by fostering more meaningful uses of time and increasing patients' confidence that they are receiving the best care.
Featured Products
---
Exam Rooms
No longer just the place for medical exams and treatments, these high-functioning spaces are designed to provide thoughtful hosting amenities and to encourage patients to be co-directors of their own health.
Featured Products
---
Caregiver Stations
A clinician's work has become more varied with new technologies, methods of record-keeping and administrative tasks being adopted. With these demands comes the need for a range of spaces optimized to support the relationships and dynamic roles that clinicians interchange between during a shift.
Featured Products
---
Administration
Periods of privacy and opportunities for focus at the workstation can improve performance, as constant distractions can increase errors. Visual and acoustic privacy combined with flexible storage and accessories drives the efficiency of administrative spaces.
Featured Products
---
Patient Consulting
With the movement toward better space utilization, the traditional physician's office has evolved from a private closed-door space to a more open and flexible workspace that focuses on patient consultation and better collaboration between physicians.
---
Cafeteria & Community
Well-designed dining areas can encourage healthy behaviors in staff and community members and improve the patient experience. As healthcare organizations look to use facility space more efficiently, dining areas are becoming the new commons and waiting rooms.
---

Arizona Office has been awarded as an authorized Servicing Dealer for the HON Healthcare/Vizient Contract. Only authorized Servicing Dealers shall promote, sell and service this contract. As a Servicing Dealer, we can provide many services such as space design, price quoting, delivery, installation and customer service.
HON in Healthcare
HON is a recognized and trusted brand. Offering timeless and durable full lifetime warranty products at an exceptional value for integrated healthcare solutions. From the front check-in desk and welcome area, to the nurse's station all the way to through the building the breakroom in the back, HON's product offering sets you up to successfully leverage your Vizient contract to the fullest.
Who is Vizient?
Vizient is the nation's leading healthcare performance improvement company, and the largest healthcare Group Purchasing Organization (GPO) in the county. The total US healthcare purchasing volume through GPOs is roughly $200 billion per year, with over $100 billion of that annual spending flowing through Vizient. 98% of the country's 5,000 hospitals leverage GPOs, with Vizient alone serving 3,100 diverse health care systems.