Sale!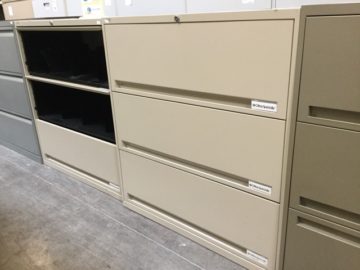 Used 3 Door 36″ Lateral File with dividers
2 in stock
Preowned 3 Drawer 36 inch Knoll Metal Lateral File Cabinet
Features:
Heavy Duty metal
3 door, flip style
Locking
Files left to right
Adjustable Shelf File DividerS
Color:  Putty
Size: 36″ Wide
Maximize your organizational options without compromising valuable work space.
Many more sizes and colors of files, cabinets and bookcases to choose from, visit our Phoenix Showroom today.
Product Description
Pre-Owned 3 Drawer 36″ Knoll Lateral File